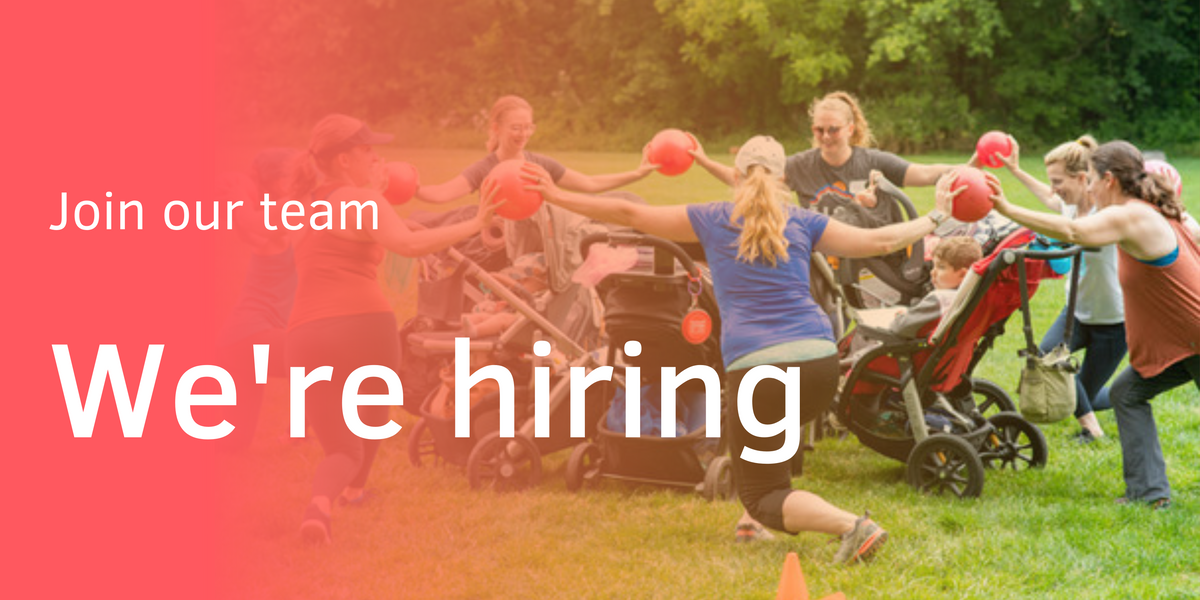 Do you love fitness, connecting with other moms, and want the opportunity to bring your kids to work?
If this sounds like you, fill out our Instructor Interest Form and we'll reach out within a few days!
ABOUT FIT4MOM
FIT4MOM is the nation's premier pre and post natal fitness program. With more than 1200 locations from coast to coast, FIT4MOM is the largest and most recognized program of its kind. We offer a total fitness program for women at all stages of motherhood. Our programs include: Stroller Strides®, Stroller Barre®, Strides 360®, Body Ignite®, Body Boost®.
We have experienced wonderful, steady growth and are looking to expand our team to better serve and reach more moms in our area.
Do You Love Connecting with Other Women?
Our instructors come in all shapes and sizes. Being a FIT4MOM Instructor is a big responsibility, the ideal instructor has the following:
High level of fitness -you should be capable of challenging and demonstrating the highest levels & modified versions of our exercises.
Excellent Form - there are no mirrors in our classes, YOU are the mirror.
Friendly and Motivating Attitude who is also creative and who enjoys working with both children and adults.
Passion for Learning and Continuing Education - you're the type of person who wants to be the best at what you do and are continuously learning.
Inclusive and Welcoming Manner - you make ALL moms feel welcome and included in class.
We are looking for a Leader who can grab the attention of up to 20 moms at once, make decisions on the fly, who isn't afraid to be loud and assertive and comfortable correcting form and pushing others to their limit
Are You Passionate About Helping Others?
Do you like the idea of helping mothers and children in your community? Would someone describe you as:
Motivating

Inspirational

Friendly

Welcoming
Qualifications
You do not need to have a fitness background to instruct for us. We will train you in exercise science, pre / postnatal fitness and fitness instruction. We offer fitness certifications for all of our programs.

Leadership & Sales Experience - you should have a high confidence-level with being out front, taking the lead, correcting form, motivating others, and initiating membership sales.

Familiarity with the Needs of Mothers, Babies, & Young Children - you do not have to be a mother to be an instructor, however you should be very familiar and comfortable with the needs of mothers, babies and young children.

Experience and Comfort Using Social Media - you are comfortable marketing your classes and using Facebook and Instagram to reach local moms.

Passion for Community: you are COMMITTED to our village, willing to show up to some events outside of teaching, Motivated to help us grow and Excited to be a part of our team
FIT4MOM Core Values
LOVE. The linchpin of motherhood and all life. We choose love over fear. We bring love to every class, interaction, and decision.
INSPIRATION. We motivate moms to achieve their ultimate potential, both physically and emotionally.
INCLUSIVITY. We take a stand to support and welcome all moms, regardless of race, religion, sexual affiliation, or age and stage of motherhood.
POSITIVITY. We recognize the impact our words and behaviors have on others. We bring big, positive energy to our work and our communities.
AUTHENTICITY. As business owners, community leaders, and Moms, we believe in integrating our true selves into every aspect of life.
RIPPLE. We model wellness, kindness, and philanthropy to our children, fellow moms, and communities. We are Moms With A Mission who give back and create positive change in our communities.
Benefits include:
Free Monthly Membership to all classes

Staff incentives, like bonuses!

Bring your kids to work during morning classes

Be a part of our awesome team
Requirements include:
Must become certified in Fit4Mom Foundations (This course will provide you with a solid understanding and practical knowledge to train the female client, both physically and mentally, alongside learning what it takes to be a great FIT4MOM Instructor.)

Must become certified in desired format (e.g. Stroller Strides, Strides 360, Stroller Barre)

Instructor insurance policy,

CPR/First Aid certified